I posted a few months ago about our decision to forgo the florist and do our flowers ourselves--organic and local. Now that its down to crunch time I actually need to place my order from the
flower farm
. I'm having a horrible time making a decision about what to actually order, and my selection is somewhat limited due to ordering from one smallish farm.
Here is where this post turns into a dumping ground for my floral inspiration collection.
It seems to me that the flowers I've liked, that might possible work, are still pretty diverse. I like the wildflower, carefree look. But I also like a more polished bouquet. Too many decisions to make! If only there was an organic, local peony and sweetpea farm, growing those springtime flowers in late summer in my area, the decision would be easy. But you work with what you've got!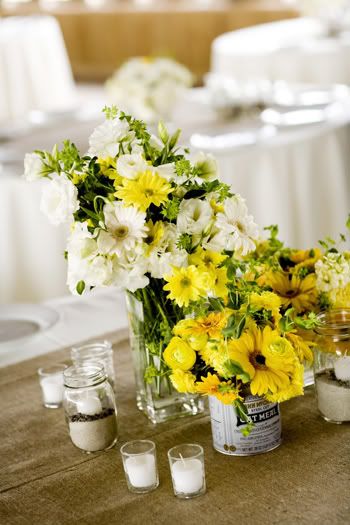 Here's what my flower farm should have in late September:
Overwhelming. We don't really have wedding colors, though stuff has generally been in the yellow, cream, dark red, olive green range. Which doesn't really limit our choice here tremendously.
I'm thinking about doing a combination of these. With the statice in just the yellow, not purple. And the dahlias in the pink-yellow and dark red color. Not sure on that.
Table flowers are going to be in a combination of thrifted vases, mason jars, and glass milk jars. Too country? Just enough?