We are attempting to limit our wedding flowers to things we can either a) grow at my parent's house (the wedding site) or b) buy from an organic grower within a hundred miles of their house.
We don't want our flowers covered with pesticides (since he runs an anti-pesticide non-profit it would be a bit hypocritical). It's a huge barrier to most mainstream flowers, since they tend to be covered in chemical goodness. Columbia produces more than 60% of the flowers sold in the United States, and of the slew of chemicals they use, the World Health Organization calls 36% of them highly or extremely toxic. Scary, especially considering that most of the people working in the industry in Columbia are women of reproductive age (those sorts of chemicals tend to be worse if you are pregnant or trying to get pregnant). (
See article here
).
So, that limits our flowers to those that thrive in hot summers with minimal water. As much as I love them, I will not be having peonies or sweetpeas or any of those out-of-season pretty spring flowers at my late summer wedding.
This loose bouquet of snapdragons is pretty and possible.
Found via IndieBride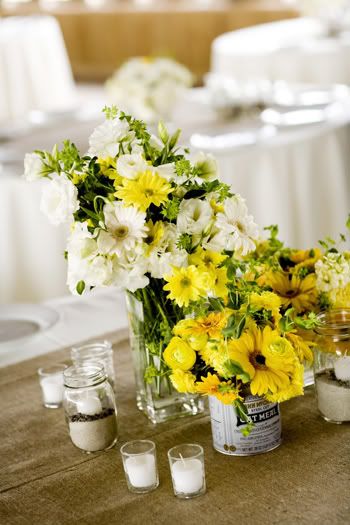 This is similar to what we plan to do with our centerpieces, with mixed flowers, in old mason jars and small bud vases. These flowers might be too springy, but daises will be in bloom in our area in the late summer.
And if we end up getting busy and overwhelmed by trying to scout out different organic growers, we may just end up pickup out a party pack from California Organic Flowers, a major distributor of organic flowers in the United States that happens to be a quick drive from our wedding site!